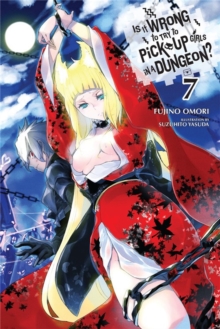 Is it wrong to try to pick up girls in a dungeon?Volume 7
0316394173 / 9780316394178
22 cm 260 pages : illustrations
Translated from the Japanese.
Having triumphed in the War Game, Lilly, Welf, and Mikoto have forged new bonds with each other and with Bell, and the new-and-improved Hestia Familia is feeling distinctly more familial.
But when Bell has to venture into the pleasure quarter of Orario to come to Mikoto's aid, he's soon tangled up in more intrigue than he bargained for.
Ishtar Familia owns the night here, and none of Bell's experience can prepare him for their courtesan wiles!
BIC: