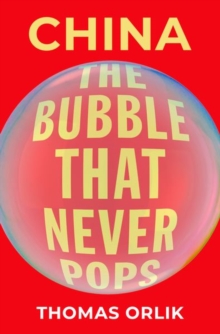 China : the bubble that never pops
0190877405 / 9780190877408
The Chinese economy appears destined for failure, the financial bubble forever in peril of popping, the real estate sector doomed to collapse, the factories fated for bankruptcy.
A banking system more than twice the size of the U.S. and an economy still a third smaller. A looming trade war with the United States that threatens to lock its factories out of the world's biggest market.
An urban landscape littered with ghost towns of empty property.
An industrial sectorstrewn with state-owned zombie firms.
A two-hundred million strong migrant workforce treated as second-class citizens in the cities where they live and work. And yet, against the odds and against expectations, growth continues, wealth rises, global influence expands.
The coming collapse of China is always coming, never arriving. Tom Orlik, a veteran of more than a decade on the ground in Beijing and Shanghai, turns the spotlight on China's fragile fundamentals, and resources for resilience.
Drawing on discussions with the Communist cadres planning China's rise, the bankers providing the financing, and the laborers sweating the construction sites, Orlik pieces together a unique perspective on China's past, present, and possible futures.
From Deng Xiaoping's reform and opening to Xi Jinping's anti-corruption crackdown, Orlik traces the policy steps and missteps that have taken China to the brink of a "Lehman moment" credit crisis.
From corporate balance sheets to the stories of shadow bankers, he plumbs the depths of financial risks.
From Japan in 1989, to Korea in 1997, the U.S. in 2007, and Greece in 2010, he positions China in the context of a rolling series of global crisis.
Mapping out possible scenarios, Orlik enhances our understanding of the economic and financial dynamics and what will happens if the bubble that never bursts finally does.
While the magnitude of the shock that would deliver to China and the world would be tremendous, perhaps even more destabilizing is if China defies the doubters by continuing to rise.
BIC:
1FPC China, JP Politics & government, KCL International economics