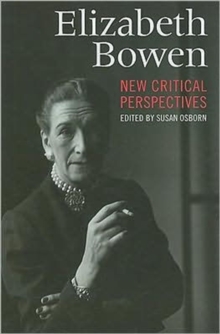 Elizabeth Bowen : new critical perspectives
1859184359 / 9781859184356
Stock expected by 17/04/2020
General (US: Trade) Learn More
Further/Higher Education
Elizabeth Bowen has in more recent times been recognised as being as radically important to our understanding of twentieth-century literature as Samuel Beckett and she is now considered among the most highly significant writers of the twentieth century.
This collection of essays is intended to broaden the critical framework of Bowen scholarship and to extend Bowen criticism by more clearly mapping her work's position in relation to contemporary critical concerns and its location in relation to twentieth-century literature generally.
Combining close textual analysis with theoretically informed readings, in this groundbreaking collection, this group of leading international scholars explores how Bowen's disruptive and deeply unconventional narratives encourage us to read her as one of the most innovative writers of modern fiction, a true progenitor of modernism.The original and freshly illuminating essays chosen for "Elizabeth Bowen: New Critical Perspectives" cite and expound the dynamics of Bowen's fiction's originality and value. While some essays explore her fictional narratives' Beckettian affinities, her narratives' relation to the Gothic, and the multiple ways her work challenges the norms and boundaries of realism, others examine their representation of Sapphic relations, the unexpected ways her work estranges the conventionally conceived dialogic relation of reader and narrative, and the complex relation of the aesthetic and the ethical in her narratives.Others explore her fiction's unexpected connections to a range of specific historical issues of major consequence during the early and mid-twentieth century including the interrelated questions of sexuality, gender, race, ethnicity, nation and war.
These readings of Bowen's work will have widespread appeal and will be of special interest to scholars and students of twentieth-century English and Anglo-Irish literature, post-colonial literature, writers of the thirties and forties, twentieth-century women's fiction, reading theory, literary realism and literary modernism as well as to the educated general reader.
BIC:
2AB English, DSBH Literary studies: from c 1900 -, DSK Literary studies: fiction, novelists & prose writers