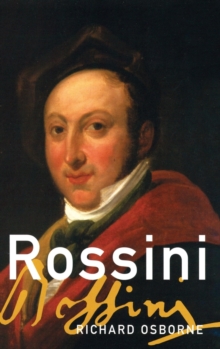 0195181298 / 9780195181296
Stock expected by 13/12/2019
Previous ed.: London: Dent, 1986.
Gioachino Rossini was one of the most influential, as well as one of the most industrious and emotionally complex of the great nineteenth-century composers.
Between 1810 and 1829, he wrote 39 operas, a body of work, comic and serious, which transformed Italian opera and radically altered the course of opera in France.
His retirement from operatic composition in 1829, at the age of 37, was widely assumed to be the act of a talented but lazy man.
In reality, politicalevents and a series of debilitating illnesses were the determining factors.
After drafting the Stabat Mater in 1832, Rossini wrote no music of consequence for the best part of twenty-five years, before the clouds lifted and he began composing again in Paris in the late 1850s.
During this gloriousIndian summer of his career, he wrote 150 songs and solo piano pieces his 'Sins of Old Age' and his final masterpiece, the Petite Messe solennelle.
The image of Rossini as a gifted but feckless amateur-the witty, high-spirited bon vivant who dashed off The Barber of Seville in a mere thirteen days-persisted down the years, until the centenary of his death in 1968 inaugurated a process of re-evaluation by scholars, performers, and writers.
The original 1985 edition ofRichard Osborne's pioneering and widely acclaimed Rossini redefined the life and provided detailed analyses of the complete Rossini oeuvre.
Twenty years on, all Rossini's operas have been staged and recorded, a Critical Edition of his works is well advanced, and a scholarly edition of his correspondence, including 250previously unknown letters from Rossini to his parents, is in progress.
Drawing on these past two decades of scholarship and performance, this new edition of Rossini provides the most detailed portrait we have yet had of one of the worlds best-loved and most enigmatic composers.
BIC:
1DST Italy, 3JH c 1800 to c 1900, AVGC4 Classical music (c 1750 to c 1830), AVGC9 Opera, AVH Individual composers & musicians, specific bands & groups, BGF Biography: arts & entertainment