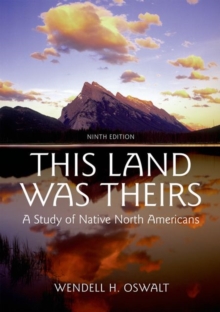 This land was theirs : a study of Native North Americans (9th ed.)
0195367405 / 9780195367409
Stock expected by 17/04/2020
Since its original publication in 1966, This Land Was Theirs has continued to offer a different approach to the study of Native Americans living north of Mexico.
Designed for undergraduate courses in Native North Americans, the emphasis was, and continues to be, on both traditional and contemporary Indian lifeways.
Oswalt looks at 12 North American Indian tribes, ranging from the Netsilik hunters of the Arctic Circle to the Natchez farmers of theMississippi; the groups represent the major culture areas and levels of socioeconomic complexity among North American Indians.
The author traces each tribe's story, from aboriginal life through historical changes to its current place among the native nations, and he makes visible the connections between each group alongthe way.
In its ninth edition, the author devotes more attention to the Navajo, the most populous tradition-oriented tribe.
He has tightened the ethnohistorical text and presented it in easy-to-read tables; increased discussion of methadone use, domestic violence, and crime on reservations; and added detail on the first transcontinental railroad's impact on Western Indian life.
BIC:
1KBB USA, JFSL9 Indigenous peoples, JHMC Social & cultural anthropology, ethnography