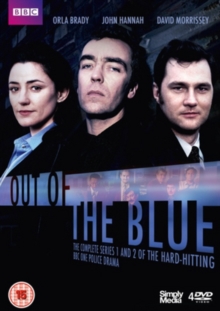 Out of the Blue: The Complete Series 1 and 2
(15) Suitable for 15 years and over.
All 12 episodes from the first and second series of the 1990s BBC police drama.
The series follows the members of the Brazen Gate CID team in Sheffield as they work together to investigate horrific crimes and gruesome murders.
In the first series, detective Frankie Drinkall (John Hannah) is diagnosed with epilepsy, but instead of listening to the doctors and taking it easy, he chooses to hide his illness from his colleagues and carry on regardless.
In the second series, detective Jim Llewyn (David Morrissey) is brought in to take over the running of CID but when his team suspect him of having his own agenda, he finds himself under internal investigation.