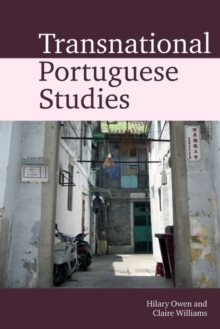 Transnational Portuguese studies
1789621399 / 9781789621396
Usually dispatched within 4 weeks
24 cm 416 pages : illustrations (black and white)
Transnational Portuguese Studies offers a radical rethinking of the role played by the concepts of 'nationhood' and 'the nation' in the epistemologies that underpin Portuguese Studies as an academic discipline.
Portuguese Studies offers a particularly rich and enlightening challenge to methodological nationalism in Modern Languages, not least because the teaching of Portuguese has always extended beyond the study of the single western European country from which the language takes its name.
However, this has rarely been analysed with explicit, or critical, reference to the 'transnational turn' in Arts and Humanities.
This volume of essays from leading scholars in Portugal, Brazil, the USA and the UK, explores how the histories, cultures and ideas constituted in and through Portuguese language resist borders and produce encounters, from the manoeuvres of 15th century 'globalization' and cartography to present-day mega events such as the Rio Olympics.
The result is a timely counter-narrative to the workings of linguistic and cultural nationalism, demonstrating how texts, paintings and photobooks, musical forms, political ideas, cinematic representations, gender identities, digital communications and lexical forms, may travel, translate and embody transcultural contact in ways which only become readable through the optics of transnationalism. Contributors: Ana Margarida Dias Martins, Anna M. Klobucka, Christopher Larkosh, Claire Williams, Claudia Pazos Alonso, Edward King, Ellen W.
Sapega, Fernando Arenas, Hilary Owen, Jose Lingna Nafafe, Kimberly DaCosta Holton, Maria Luisa Coelho, Paulo de Medeiros, Sara Ramos Pinto, Sheila Moura Hue, Simon Park, Susana Afonso, Tatiana Heise, Toby Green, Tori Holmes, Vivien Kogut Lessa de Sa and Zoltan Biedermann.
BIC:
1DSP Portugal, JFC Cultural studies, JHMC Social & cultural anthropology, ethnography