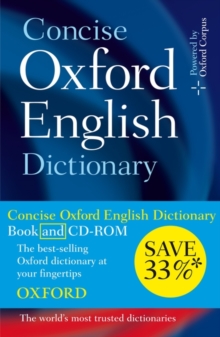 Concise Oxford English dictionary (11th ed., rev.)
0199561052 / 9780199561056
Usually dispatched within 2 weeks
CD-ROM. Previous ed.: 2006.
The Concise Oxford English Dictionary is a world-famous bestseller, chosen by thousands of users for its up-to-date and authoritative coverage of the English language.
This package includes the latest edition of the Concise Oxford English Dictionary in print and CD-ROM formats.
It contains over 240,000 words, phrases, and definitions, providing meanings for everyday words plus scientific and technical vocabulary, as well as English from around the world.
This revised edition of the dictionary has been updated with hundreds of new words and phrases drawn from research findings from the Oxford Reading Programme and the two-billion word Oxford English Corpus.
The CD-ROM version of the dictionary offers full-text search functionality, instant look-up from Windows(r) documents, including email and the internet, and high-quality spoken pronunciations for thousands of words, making it ideal for family use, as well as for homework and school use.
The CD-ROM is also Mac compatible for the first time, due to brand new software. This edition also features a new supplementary section, with quick-reference word lists (containing, for example, lists of Unusual Words, and Onomatopoeic Words), and a revised and updated English Uncovered supplement, which presents interesting facts about the English language.
BIC:
* Variable discounts between 0% and 15% are applied to items where BBfS cannot determine exact discounts from suppliers.
Other Formats