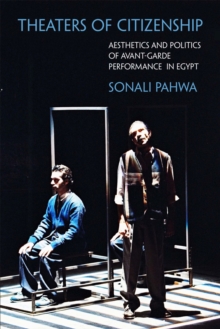 Theaters of Citizenship : Aesthetics and Politics of Avant-Garde Performance in Egypt
0810141760 / 9780810141766
152 x 229 mm 182 pages, 16 black & white images
Theaters of Citizenship investigates independent Egyptian performance practices from 2004 to 2014 to demonstrate how young dramatists staged new narratives of citizenship outside of state institutions, exploring rights claims and enacting generational identity.
Using historiography, ethnography, and performance analysis, the book traces this avant-garde from the theater networks of the late Hosni Mubarak era to productions following the Egyptian revolution of 2011. In 2004, independent cultural institutions were sites for more democratic forms of youth organization and cultural participation than were Egyptian state theaters.
Sonali Pahwa looks at identity formation within this infrastructure for new cultural production: festivals, independent troupes, workshops, and manifesto movements.
Bringing institutional changes in dialogue with new performance styles on stages and streets, Pahwa conceptualizes performance culture as a school of citizenship.
Independent theater incubated hope in times of despair and pointed to different futures for the nation's youth than those seen in television and newspapers.
Young dramatists countered their generation's marginalization in the neoliberal economy, media, and political institutions as they performed alternative visions for the nation.
An important contribution to the fields of anthropology and performance studies, Pahwa's analysis will also interest students of sociology and Egyptian history.
BIC: