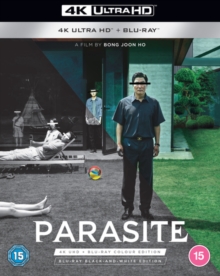 Parasite: Black and White Edition
Blu-ray (Blu-ray / 4K Ultra HD + Blu-ray)
(15) Suitable for 15 years and over.
Korean satirical black comedy co-written and directed by Joon-ho Bong.
Kim Ki-taek (Kang-ho Song) sees a way out of his struggling family's poverty when he is employed by the wealthy Park family to tutor their daughter Da-hye (Ji-so Jung).
He quickly ingratiates himself with the Park family and convinces them to employ the rest of his impoverished family disguised as his acquaintances.
However, their scheme to infiltrate the Park's lavish life soon turns awry when their true identities come under scrutiny.