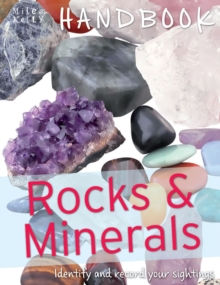 Rocks and minerals handbook
1782095721 / 9781782095729
Usually dispatched within 2 weeks
22 cm 96 pages : illustrations
Includes blank sections to be filled in by the reader.
Rocks and Minerals Handbook is a fun, practical guide featuring easy identification tips, key stats and interesting facts about rocks and minerals, to encourage children to be interested in the subject.
Rocks and Minerals Handbook can be used by kids on outdoor excursions or doing indoor research, as each fact file contains lots of interesting information. Types of rocks and minerals included: Minerals: albite, augite, calcite, diamond, fluorite, gypsum, hornblende, jadeite, kaolinite, magnetite, mica, olivine, orthoclase, pyrite and quartz Igneous rocks: andesite, basalt, diorite, gabbro, granite, obsidian, pegmatite, porphyry and pumice Metamorphic rocks: gneiss, hornfels, marble, phyllite, quartzite, schist, serpentinite and slate Sedimentary rocks: breccia, chalk, coal, conglomerate, flint, fossils, limestone, sandstone and shale Space rocks: meteorites Features of this book: Over 40 detailed rock and mineral fact files to engage children, including information on each specimen's colour, location, weight and hardness. Helpful photographs of rocks for kids to identify their sightings and useful labels to explain the main features of each specimen. Designated areas to record observations, and add drawings and photos. 'Seen it?' and 'Exposure rating system' circles to tick, helping kids keep a note of what they have seen. Helpful 'How to use this book' guide and glossary to summarise key definitions for young learners. Introductions to the book Rock cycle and Places to go offer helpful tips such as what to look for, where to look and the 'Rockhound kit' check list.
BIC: