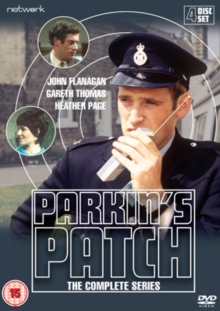 Parkin's Patch: The Complete Series
(15) Suitable for 15 years and over.
All 26 episodes of the Yorkshire Television drama following the police officers of a small village in Yorkshire.
A precursor to the success of 'Heartbeat', the show sees PC Moss Parkin (John Flanagan) and DC Ron Radley (Gareth Thomas) struggle to keep the citizens of Fickley on the right side of the law, with cases ranging from petty theft to abduction.
The episodes are: 'Hoot Nor Horn', 'Lock, Stock and...', 'Dead Or Alive?', 'Fame of a Kind', 'Bonus', 'The Good Listener', 'The Deserter', 'The Way Home', 'Boys', 'A Pair of Good Shoes', 'The Birmingham Con', 'Nothing Personal', 'Everybody Knew But Me', 'No Friendship for Coppers', 'Manchester Passenger', 'The Journey', 'Regulation 17', 'Vickory', 'Fox Among the Chickens', 'Wisemen', 'This Little Piggy', 'Low Moon', 'The Spider's Web', 'It's Got to Be Local', 'The Link' and 'Two Gentlemen Standing'.