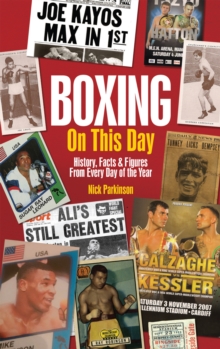 Boxing on this day : history, facts & figures from every day of the year
1785310526 / 9781785310522
20 cm 192 pages : illustrations
Boxing On This Day revisits the sport's most magical moments, from title tear-ups, shocks and famous knockouts to bizarre dramas.
Here are hundreds of ring highlights, all mixed in with a maelstrom of quirky anecdotes and legendary characters to produce an irresistibly dippable boxing diary - with an entry for every day of the year.
It's not just the stunning punches and smart one-liners that makes the history of the fight game so absorbing.
Boxing is never far from controversy or hyperbole, surviving fixes and numerous scandals while producing some of sport's most famous names from Dempsey to Louis, from Ali to Tyson, from Lennox Lewis to Floyd Mayweather Jr.
As well as recalling heroic, controversial, funny, tragic and surreal events, Boxing On This Day benefits from brilliant research, gathering together many original stories in a concise history of boxing from the 19th century to 2015.
BIC: