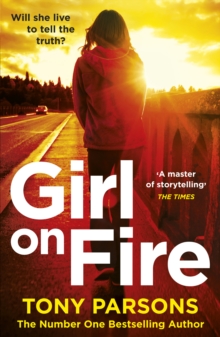 Girl on fire
1784755346 / 9781784755348
Reprint. Originally published: London: Century, 2018.
ALMOST HOME. BUT NOWHERE TO HIDE. From the number one bestselling crime-writer comes a brilliant, page-turning new DC Max Wolfe thriller. 'Remarkably moving' The TimesWhen terrorists use a drone to bring down a plane on one of London's busiest shopping centres, it ignites a chain of events that will draw in the innocent and guilty alike. DC Max Wolfe finds himself caught in the crossfire in a city that seems increasingly dangerous and hostile. But does the danger come from the murderous criminals that Max is tracking down? Or the people he's trying to protect?Or does the real threat to Max lie closer to home?'Tony Parsons puts you right there in every scene he writes.
I love that kind of storytelling and I'm a D.C. Max Wolfe fan.' James Patterson 'A relentless plot, evocative prose and compelling characters conspire to make this a must-read.' Jeffery Deaver'I've long been a fan of Tony Parsons' writing, and this is brilliant stuff.' Peter James'Spectacular!
Tense and human, fast and authentic' Lee Child 'Great plotting, great characters and at least two eye-widening twists I didn't see coming' Sophie Hannah'Simply superb plot and characters' Peterborough Evening Telegraph
BIC:
1DBKESL London, Greater London, FF Crime & mystery, FH Thriller / suspense