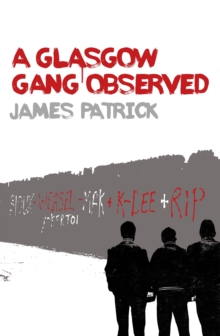 A Glasgow gang observed (Third edition)
1906000387 / 9781906000387
xv, 236 pages : illustrations (black and white), map (colour)
Published in Scotland. Previous edition: 2012.
In the 1960's a 26-year-old schoolmaster at a Scottish reformatory (List D) School, under the alias of James Patrick, went undercover with the help of one of his pupils to study the often violent behaviour of the teenagers in a gang in Glasgow.
He managed to conceal his identity and motives and during the course of a four-month assignation in 1966 he observed closely the gang members and concluded that the boys were 'afraid of fighting other gangs but more afraid of not fighting them.' Ultimately it was 'the struggle between identification with the boys and abhorrence of their violence that forced me to quit.' This book became the first published observation of a Glasgow gang and as such has stood the test of time as a number of factors that Patrick identified as contributing to the growth of gang culture still remain in existence today, most crucially poverty, grim housing conditions and unemployment.
This is a portrait of gang culture before the drug barons moved in and created another level of violence and as such it deserves its cult status.
Now with a new introduction from the author whose whereabouts are only known to the publishers. The republication of the book follows closely behind Peter Mullan's highly rated film 'Neds' which portrays a Glasgow gang in the 1970s.
BIC:
1DBKSC Central Scotland, JFFE Violence in society, JKVM Organized crime