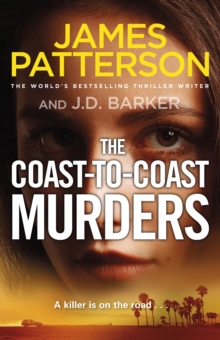 The coast-to-coast murders
1529125170 / 9781529125177
THE SUNDAY TIMES BESTSELLERFrom coastal California to upstate New York, a killer is plotting a devastating path of destruction . . . Michael and Megan Fitzgerald are siblings who share a troubling past.
Both adopted, and now adults - Michael is a long-haul truck driver, Megan a college student majoring in psychology - they trust each other before anyone else.
They've had to. When a young woman is found murdered in Michael's LA apartment, he is the chief suspect and quickly arrested.
But then there's another killing that is strikingly similar. And another. And not just in LA - as the spree spreads across the country, the FBI become involved in a manhunt for a cold-blooded serial killer. Racing against time, the LAPD and FBI desperately search for a way to prevent a string of murders that seems unstoppable. _______________________________Readers love The Coast-to-Coast Murders:'This is James Patterson at his breathtaking best' *****'Sits right up there with the best of the best . . . utterly unputdownable' *****'Full of twists and turns . . . I was completely thrown at the end' *****'A fast-paced thriller of epic proportions.
Utterly brilliant' *****'Gripping from the first page to the last, this book has it all' *****'A fascinating, intricate storyline that wends and weaves and left me breathless' *****'Patterson does it again . . . I was gripped from start to end' *****'Has you on the edge of your seat . . . the short chapters power the plot along at lightning speed; you simply can't put it down' *****'You really can't go wrong with a James Patterson novel, and this one didn't disappoint' *****'A rollercoaster of a ride' *****'Beyond stellar' *****'Had me on the edge of my seat from start to finish' *****'Like reading a blockbuster movie . . . Brilliantly written' ****'Will keep you guessing until the very end' ****'Twisted, jaw dropping, eye popping . . . You cannot relax for a second' ****
BIC: