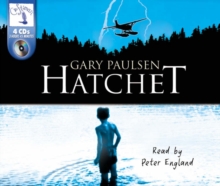 1874703140 / 9781874703143
Usually dispatched within 2 weeks
This complete and unabridged audio book of a powerful novel tells the story of 13-year old Brian Robeson.
After his parents' divorce, Brian is travelling to the Canadian oil fields to visit his father when the pilot of the two-seater plane suffers a fatal heart attack.
Somehow Brian must land the plane and then survive in the wilderness with just his wits and a hatchet, a present from his mother.
BIC: