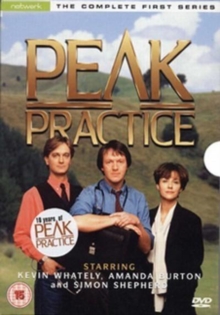 Peak Practice: Complete Series 1
The complete first series of the ITV medical drama.
In 'Sharp Practice' Jack Kerruish returns from working in an African clinic and takes a job at The Beeches surgery in the Peak District village of Cardale. 'Outsiders' sees Jack clash with fellow doctor Beth Glover. 'Growing Pains' has Dr Daniel Acres begin an affair with Sarah Preston, the wife of his medical colleague Will. 'Roses Around the Door' finds the staff at The Beeches under pressure as their workload increases. 'Impulsive Behaviour' sees Jack enjoy the attentions of an attractive new doctor. 'Hope to Die' has the future of Will and Sarah's marriage threatened by financial problems. 'Listening Skills' finds Will attempting to clear his debts, but his actions have tragic results.
Finally, in 'Giddy Heights', Jack joins a mountain rescue team.