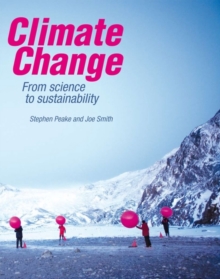 Climate change : from science to sustainability (2nd ed)
0199568324 / 9780199568321
Stock expected by 14/06/2020
27 cm vii, 291 p. : ill. (chiefly col.), col. maps, ports. (chiefly col.)
Postgraduate, Research & Scholarly Learn More
Undergraduate
Published in association with the Open University. Previous ed.: 2003.
Climate change is one of the most complex, multilayered and interdisciplinary intellectual puzzles facing us today.
The questions are numerous. What scientific processes underpin climate change? To what extent is human activity a driver of climate change?
Can future changes be reliably predicted? What are the likely consequences of climate change, and what policies are needed to mitigate these changes?Climate Change offers a unique interdisciplinary journey through this important, and equally fascinating, field.
It takes the reader from keystones of the underlying science - and not just the headlines - through to the philosophical and political consequences of climate change. Taking into account latest scientific research and policy decisions, it blends earth science, biology, technology, economics, geography, politics, philosophy and ethics - together with other themes - to present a coherent, balanced overview of the field, with a particular eye towards one goal: the sustainability of our planet. The potential impact of climate change is vast; Climate Change is the ideal guide to developing the skills needed to take part in the debates that will shape our future. Online Resource Centre:The Online Resource Centre featuresFor registered adopters of the text:* Figures from the book in electronic format, ready to downloadFor everyone:* Annotated web links to key sources of further informationOxfordNews Now: the latest news relevant to climate change from a variety of media sources, brought direct to the Online Resource Centre, and always up to date
BIC:
RBP Meteorology & climatology, RNPG Climate change, RNU Sustainability