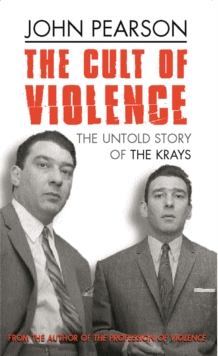 The cult of violence : the untold story of the Krays
0752847945 / 9780752847948
18 cm x, 325 p., [16] p. of plates : ill. (some col.)
Reprint. Originally published: 2001.
John Pearson has unique access to the Kray family and is now able to use material never before published THE PROFESSION OF VIOLENCE has sold over 1,000,000 copies in paperback in 27 years, and is in its fourth edition THE CULT OF VIOLENCE includes new revelations about the Krays criminal past, trial and their extraordinary activities in jail This is an extremely timely book as, with the death of Reggie, Pearson is at liberty to use hours of hitherto unused interviews with the twins made in the 60s Major serialisation in the MAIL ON SUNDAY on hardback publication 'The person who best understood
John Pearson knows more about the Krays than anyone alive.
THE KRAYS film was based on his book THE PROFESSION OF VIOLENCE and it was Pearson who exposed the Boothby connection in 1994.
In 1967 the twins asked Pearson to write their biography.
He remained a confidant of the family and the brothers throughout their trial and prison years.
Now Pearson revisits the twins' criminal past and lays bare the truth behind the legend.
Drawing upon a mass of first-hand interviews and private information he was unable to use while the Krays were still alive, he finally recounts the chilling untold story of the Twins.
BIC: