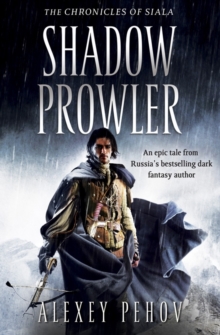 Shadow prowler
1847396712 / 9781847396716
Usually dispatched within 2 weeks
This translation originally published: New York: Tor.
After centuries of calm, the Nameless One is stirring.
An army is gathering: thousands of fellcreatures joining forces from across the Desolate Lands, united for the first time in history under one black banner.
By the spring, or perhaps sooner, the Nameless One and his forces will be at the walls of Avendoom.Unless Shadow Harold, master thief, can stop them.
Epic fantasy at its best, Shadow Prowler is the first in a trilogy that follows professional thief Shadow Harold on his quest for a long-lost artefact that will save the Kingdom of Siala.
Bound by oath to fulfil his commission, even if he dies trying, Harold is accompanied on his quest by a mysterious elfin princess, ten Wild Hearts -- the most dangerous fighters in the world -- and the King's court jester (who may be more than he seems ... or less). His journey will lead Harold towards a destiny greater and more perilous than he could imagine...
BIC: