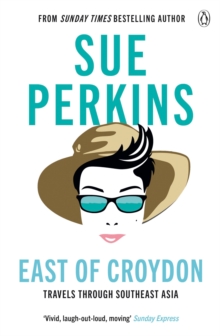 East of Croydon : travels through South East Asia
1405938145 / 9781405938143
Reprint. Originally published: 2018.
Follow Sue Perkins' extraordinary adventures across southern Asia in this fabulously funny travelling tale - inspired by her BBC 1 documentary series 'The Ganges with Sue Perkins' Pick of the holiday reads - Daily Mirror'Vivid, laugh-out-loud, moving' Sunday Express'A few years ago I was asked if I'd like to make a documentary on the Mekong River, travelling from the vast delta in Vietnam to the remote and snowy peaks of Tibet. Up until that point, the farthest East I'd been was Torremolinos, in the Costa Del Sol.
Here's the thing: I am scared of flying. I have zero practical skills. I can't survive if I am more than a three minute walk from a supermarket. For the last seven years I have suffered with crippling anxiety. I bolt when panicked. I cannot bear to witness humans or animals in distress. I have no ability to learn languages. I am a terrible hypochondriac. Oh, and I am no good with boats. So I said yes.'SHORTLISTED FOR AUTOBIOGRAPHY OF THE YEAR AT THE 2018 NATIONAL BOOK AWARDS'Part memoir, part travel guide.
A fab account full of wit and emotion' Prima'An unvarnished, endearing and very funny account' Woman & Home'Alongside laugh-out-loud travel stories, the book also provides a moving account of her coming to terms with her father's death' Daily Mirror_________Praise for Spectacles: 'Utterly wonderful.
It's very, very funny and poignant' Nina Stibbe, bestselling author of Reasons to be Cheerful 'Very funny ... reading her memoir is very like meeting her' Sunday Times'Charming and funny ....
Like going for a long, slightly drunken lunch with your naughtiest friend' Red'Brilliantly written... fearlessly honest and full of heart, it will also make you laugh like a gibbon' Heat
BIC:
1FKA India, 1FM South East Asia, BM Memoirs, WTHA Adventure holidays, WTLC Classic travel writing, WTM Places & peoples: general & pictorial works