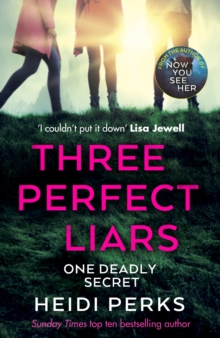 Three perfect liars
1787464113 / 9781787464117
Originally published: London: Century.
***THE UNPUTDOWNABLE THRILLER FROM THE AUTHOR OF NOW YOU SEE HER***'Slick, gripping and compelling.
I couldn't put it down' LISA JEWELL____________________________THREE PERFECT WOMEN. THREE PERFECT LIVES. WHAT ARE THEY HIDING?When Laura returns from maternity leave to work in a marketing agency, something isn't right. Mia was only supposed to be temporary cover for Laura, but now she's staying permanently.
Struggling with the burdens of work and motherhood, Laura starts to feel her life is slipping away. Then comes the fire - gutting the agency's offices - and the body pulled out of the wreckage. The police want to talk to three women. There's Janie, utterly devoted wife to the CEO. There's Mia, the agency's bright new talent. And there's Laura, a loyal employee of many years. Their lives might look perfect from the outside. But their secrets won't stay hidden forever... 'It Heidi Perks's understanding of different types of women, and the fact that office politics is so often just a brutal playground for acting out unresolved issues at home, that makes this a winner' DAILY MAIL____________________________Praise for Three Perfect Liars:'Vivid ... well observed ... a winner' DAILY MAIL'Simmering tensions and double crossings will have you racing to the dramatic finale' SUNDAY MIRROR'This tense and tight thriller builds to an explosive conclusion' BEST'Highly addictive and thrilling' HEAT____________________________Readers love Heidi's thrillers:'This is a read not to be missed!!!''Family secrets, mystery and intrigue.
This is the perfect book that won't disappoint''This is one of those books that you start to read and right from the outset it becomes completely addictive.''You find yourself unable to trust anyone!''A surprising plot and lots of twists with interesting characters.
I loved the writing style and the setting of the story''Easily the best thriller I've read in a long time''Lots of twists and turns, guaranteed page-turner that keeps you guessing until the end''The ending took me by surprise''Couldn't put this one down - just one more chapter became something of a mantra!''I loved the book and the fact it kept me guessing till the end'
BIC: