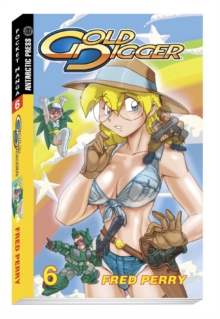 Gold Digger Pocket Manga - v. 6
1932453814 / 9781932453812
Usually dispatched within 4 weeks
112 x 175 mm, 113 grams 128 pages
Gina "Gold Digger" Diggers is still on the go all over the world and beyond in search of old treasure and new knowledge.
She briefly loses a valuable artifact to Ryan Tabbot, a cute (but self-centered) competitor, in Istanbul, but trails him soon enough to an ancient underground spaceport in Egypt.
Ryan then joins her, arch-rival Penny, and friend/transport man Ace on a trip to the Bermuda Triangle, where an anomaly leads them into chronospace and onto the trail of a time-traveling genius dog and his pet boy.
But if they don't bring this mutt mastermind to heel, he'll change history to ensure a future where Caninekind rules over Man!
BIC:
* Variable discounts between 0% and 15% are applied to items where BBfS cannot determine exact discounts from suppliers.