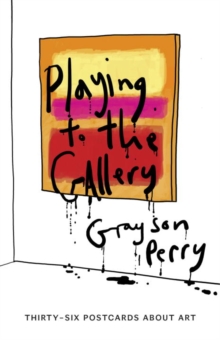 Playing to the Gallery Postcards : Thirty-six Postcards About Art
1846148715 / 9781846148712
Usually dispatched within 2 weeks
36 unique postcards by Grayson Perry, each featuring an original artwork from his book.
Playing to the Gallery Acclaimed as 'a visual and intellectual delight' (Time Out), Grayson Perry's Playing to the Gallery allows us to truly appreciate art as he answers the questions that might occur to us in a gallery but seem too embarrassing to ask.
In Grayson's words, 'It's easy to feel insecure around art and its appreciation, as though we cannot enjoy certain artworks if we don't have a lot of academic and historical knowledge.
But if there's one message that I want you to take away it's that anybody can enjoy art and anybody can have a life in the arts - even me!
For even I, an Essex transvestite potter, have been let in by the artworld mafia.' This set of 36 postcards, each featuring an original artwork from the book, embodies all the talent, humour, intelligence and relevance of Grayson Perry.
Grayson Perry is one of the most popular artists in Britain today.
His first art prize was a large papier-mache head he awarded to himself as part of a performance art project at college. Since then he has won many other awards, including the Turner Prize in 2003, and has had major solo exhibitions all over the world.
His book Playing to the Gallery is based on his acclaimed BBC Reith Lectures.
BIC:
AC History of art / art & design styles, WZS Stationery items