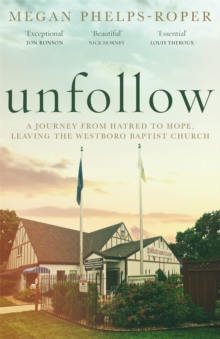 Unfollow : a journey from hatred to hope, leaving the Westboro Baptist Church
1787478009 / 9781787478008
LOUIS THEROUX: 'For anyone who enjoyed Hillbilly Elegy or Educated, Unfollow is an essential text'PANDORA SYKES: 'Such a moving, redemptive, clear-eyed account of religious indoctrination' NICK HORNBY: 'A beautiful, gripping book about a singular soul, and an unexpected redemption'DOLLY ALDERTON: 'A modern-day parable for how we should speak and listen to each other'JON RONSON: 'Her journey - from Westboro to becoming one of the most empathetic, thoughtful, humanistic writers around - is exceptional and inspiring'An Amazon Best Book of 2019As featured on the BBC documentaries, 'The Most Hated Family in America' and 'Surviving America's Most Hated Family'It was an upbringing in many ways normal.
A loving home, shared with squabbling siblings, overseen by devoted parents.
Yet in other ways it was the precise opposite: a revolving door of TV camera crews and documentary makers, a world of extreme discipline, of siblings vanishing in the night. Megan Phelps-Roper was raised in the Westboro Baptist Church - the fire-and-brimstone religious sect at once aggressively homophobic and anti-Semitic, rejoiceful for AIDS and natural disasters, and notorious for its picketing the funerals of American soldiers.
From her first public protest, aged five, to her instrumental role in spreading the church's invective via social media, her formative years brought their difficulties.
But being reviled was not one of them. She was preaching God's truth. She was, in her words, 'all in'. In November 2012, at the age of twenty-six, she left the church, her family, and her life behind.
Unfollow is a story about the rarest thing of all: a person changing their mind.
It is a fascinating insight into a closed world of extreme belief, a biography of a complex family, and a hope-inspiring memoir of a young woman finding the courage to find compassion for others, as well as herself. ---'A gripping story, beautifully told . . . It takes real talent to produce a book like this. Its message could not be more urgent' Sunday Times'Hate's kryptonite' Washington Examiner'An exceptional book' The Times'A nuanced portrait of the lure and pain of zealotry' New York Times'Unfolds like a suspense novel . . . A brave, unsettling, and fascinating memoir about the damage done by religious fundamentalism' NPR
BIC:
1KBB USA, BM Memoirs, HRAM9 Religious intolerance, persecution & conflict, HRCC92 Baptist Churches, HRCZ Christian & quasi-Christian cults & sects
£14.99
The title has been replaced. To check if this specific edition is still available please contact Customer Care +44(0)1482 384660 or schools.services@brownsbfs.co.uk, otherwise please click 9781787478015 to take you to the new version.
* Variable discounts between 0% and 15% are applied to items where BBfS cannot determine exact discounts from suppliers.
Other Formats