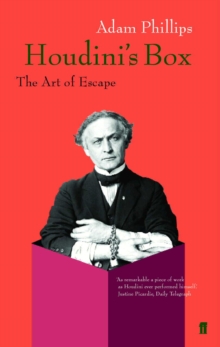 Houdini's box : on the arts of escape
0571206654 / 9780571206650
Reprint. Originally published: 2001.
Adam Phillips explores mankind's ongoing fascination with ideas of escape, looking at the great Harry Houdini and a case history of a little girl obsessed with hide and seek; at the notoriously reclusive poet Emily Dickinson and a man who believes it is his destiny to always be in flight, whether from women or his analyst.
This is Adam Phillips' most captivating book to date.
BIC: