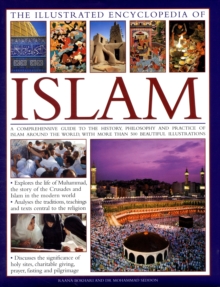 The illustrated encyclopedia of Islam : a comprehensive guide to the history, philosophy and practice of Islam around the world, with more than 500 beautiful illustrations
0754819558 / 9780754819554
Stock expected by 26/11/2019
31 cm 256 p. : ill. (chiefly col.), col. maps, ports. (chiefly col.)
This is a comprehensive and magnificently illustrated encyclopedia of the Islamic faith, its history, philosophy and religious practice.
It offers an insightful overview of Islamic beliefs, teachings, texts and traditions, and an exploration of the Qur'an as the revealed word of God and as a sacred text.
It discusses Islamic worship, religious practices and Muslim life, and discusses the significance of holy sites, prayer, fasting and pilgrimage.
It is an unparalleled reference book for the general reader, superbly illustrated with over 500 colour paintings, photographs, artworks and maps.
In the contemporary world the Islamic community is represented by around 1.4 billion people or twenty five percent of the global population.
To understand the religion of Islam it is essential to comprehend the prophet Muhammad, his message, his life and the early medieval Arabian society into which he was born.
This book comprehensively explores the life and work of Muhammad, the history of Islam, Islamic beliefs and doctrine, and religious practices and worship. Illustrated with more than 500 full-colour paintings, artworks, maps and photographs, and including a helpful glossary at the end, this book offers an introduction to and overview of a complex and often misunderstood religion.
It is perfect for general readers new to Islam, and a handy resource for students and scholars alike.
BIC: