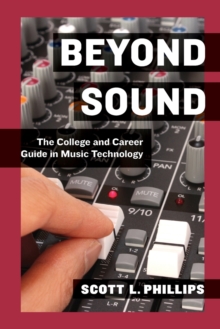 Beyond sound : the college and career guide in music technology
0199837686 / 9780199837687
Usually dispatched within 4 weeks
24 cm 256 pages : illustrations
Beyond Sound: The College and Career Guide in Music Technology is a must-read for anyone who loves music technology and wants to build a career in this competitive, fast-paced and exciting world.
It is an outstanding resource for college and high school students, high school career centers, university placement centers, and libraries. Beyond Sound reflects on major technological advancements in recent history and explains why now is the ideal time to start a music technology career.
An in-depth consideration of music technology education looks at over 200 schools that offer Music Technology, Music Recording, Music Industry, and Music Business programs. Beyond Sound considers the differences between BM, BS, BA, and BFA degrees as well as Graduate School, Trade School, and Art school programs.
The reader isgiven the tools to research and make informed decisions about where to go to pursue their own formal music technology education. Beyond Sound provides practical guidance on career preparation, including how to get a great internship, how to land that first job, and how to make connections and move up in the business.
Music technology jobs in recording, live sound, television and film, digital media, video games, retail sales, and education are described in great depth and clarity.
Successful professionals in each of these fields share their stories, experiences, advice, and suggestions in candid interviewsthat provide the reader with a rare glimpse inside the professional world of music technology. Author Scott L. Phillips draws on his seventeen-year career as a technology trainer and educator, his scholarly research of music technology programs, and his extensive network of music technology professionals to bring the reader an intimate and accurate view of the exciting world of music technology. With this book, the aspiring music technologist will be able to learn about, prepare for, and begin a successful career that goes far Beyond Sound.
BIC:
AVX Music recording & reproduction, KNTF Music industry, TTA Acoustic & sound engineering, VSC Advice on careers & achieving success