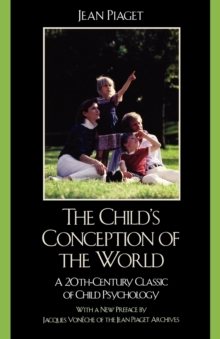 The Child's Conception of the World : A 20th-Century Classic of Child Psychology (Second Edition)
0742559513 / 9780742559516
141 x 215 mm, 562 grams 432 pages
A milestone of child psychology, The Child's Conception of the World explores the ways in which the reasoning powers of young children differ from those of adults.
What conceptions of the world does the child naturally form at the different stages of its development?
To what extent does the child distinguish the external world from an internal or subjective world and what limits does he or she draw between the self and objective reality?
These questions make up the first problem, the child's notion of reality. A second fundamental problem is the significance of explanations put forward by the child.
What use does he or she make of the notions of cause and law?
Is the form of explanation presented by the child a new type?
These and like questions form the second problem, the child's notion of causality. Jacques Voneche, Director of the Piaget Archives in Geneva, Switzerland, provides a preface to this classic in which he reveals the provanance of The Child's Conception of the World within the context of Piaget's other work and the then-burgeoning field of developmental psychology.
BIC: