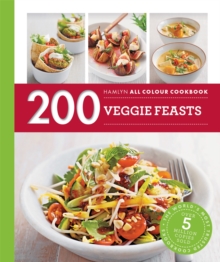 0600633373 / 9780600633372
17 cm 240 pages : illustrations (colour)
Reprint. Originally published: 2008.
Whether you're a die-hard vegetarian or a committed carnivore, the mouthwatering veggie recipes in Hamlyn All Colour Cookbook: 200 Vegetarian Recipes can be enjoyed by the whole family to keep everyone healthy and happy.
Choose from simple snacks such as Mushroom and Ginger Crispy Wontons or Sweet Potato and Coconut Soup to more filling Thai Red Curry Vegetable Pies and the tempting Tiramisu Cheesecake.
With such a considerable selection, you'll be able to create fantastic vegetarian meals to suit all persuasions and occasions.Every recipe is accompanied by a full-page colour photograph and clever variations and new ideas, giving you over 200 meals to choose from.
The hardest part for you is deciding which delicious dish to cook first!Check out some of the other titles in the series:200 5:2 Diet Recipes (ISBN 978-0-600-63347-1)200 Cakes & Bakes (ISBN 978-0-600-63329-7)200 Family Slow Cooker Recipes (ISBN 978-0-600-63057-9)200 Halogen Oven Recipes (ISBN 978-0-600-63344-0)200 One Pot Meals (ISBN 978-0-600-63339-6)200 Pasta Dishes (ISBN 978-0-600-63334-1)200 Super Soups (ISBN 978-0-600-63343-3)
BIC: