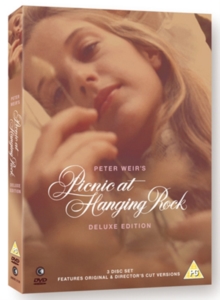 DVD (DVD / Deluxe Edition)
Peter Weir's atmospheric film is based on actual events which have never been fully explained.
On St Valentine's Day 1900, a group of Australian schoolgirls set out on a picnic.
Two of the girls and one of the teachers mysteriously vanish, and even an extensive search turns up nothing.
Interviews: Joan Lindsay (Author)
Other Documentary: Director's Cut and Original Version, 'A Dream Within a Dream', 'A Recollection: Hanging Rock 1900', 'Hanging Rock and Martindale Hall: Then and Now', 'The Day of St Valentine'