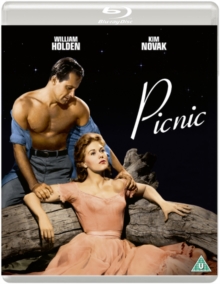 (U) Universal, suitable for all.
William Holden and Kim Novak star in this adaption of William Inge's Pulitzer Prize winning play.
Restless drifter Hal Carter (Holden) arrives in a small town in Kansas, hoping to reunite with his old college friend Alan (Cliff Robertson).
Alan welcomes him with open arms and promises him employment with his father's grain business but trouble arises when Hal is introduced to Alan's girlfriend Madge Owens (Novak) and the pair quickly fall in love.
Soon, the whole of the town is effected by Hal's anarchic influence, as violence and jealousy threaten to erupt.
Interviews: 'Kim Novak's Hollywood Picnic'