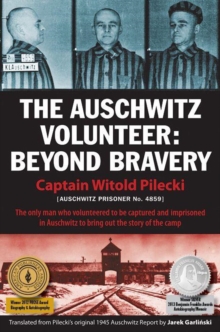 The Auschwitz volunteer : beyond bravery
1607720094 / 9781607720096
Stock expected by 14/05/2021
24 cm liv, 401 pages : illustrations (black and white), maps (black and white)
Translated from the Polish.
In 1940, the Polish Underground wanted to know what was happening inside the recently opened Auschwitz concentration camp.
Polish army officer Witold Pilecki volunteered to be arrested by the Germans and reported from inside the camp.
His intelligence reports, smuggled out in 1941, were among the first eyewitness accounts of Auschwitz atrocities: the extermination of Soviet POWs, its function as a camp for Polish political prisoners, and the final solution" for Jews.
Pilecki received brutal treatment until he escaped in April 1943; soon after, he wrote a brief report.
This book is the first English translation of a 1945 expanded version.
In the foreword, Poland's chief rabbi states, If heeded, Pilecki's early warnings might have changed the course of history." Pilecki's story was suppressed for half a century after his 1948 arrest by the Polish Communist regime as a Western spy." He was executed and expunged from Polish history.
Pilecki writes in staccato style but also interjects his observations on humankind's lack of progress: We have strayed, my friends, we have strayed dreadfully...we are a whole level of hell worse than animals!"These remarkable revelations are amplified by 40 b&w photos, illus., and maps.
BIC:
1DV Eastern Europe, HBG General & world history, HBJD European history, HBTZ1 The Holocaust, HBW Military history, HBWQ Second World War, JWLF Battles & campaigns