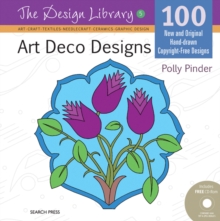 Art deco designs : 100 new and original hand-drawn copyright-free designs
1844487326 / 9781844487325
100 decorative, stylised designs inspired by the beautiful linear patterns and images of the Art Deco movement.
The book is divided into six sections: scenic, floral, figures, animals, abstract and patterns, and the inclusion of a CD means that designs can be easily scanned, enlarged, reduced, or used same size, adapted, or mixed and matched with other illustrations to create original projects and artworks.
This new and exciting style permeated all areas of life in the 1930s, like no other artistic movement before or since then. encompassing architecture, fashion, furniture, textiles, jewellery, art, graphic design and illustration.
Even the most basic utilitarian objects were influenced by the linear style.
The angular forms that were developed by Art Deco craftsmen and artists were streamlined and simplified in original and wonderful ways.
The illustrations in this book offer many ideas and images for translation into stitch, colour and form - for anyone researching an idea, or looking for different ways to approach a project.
BIC:
ACXD3 Art & design styles: Art Deco, AK Industrial / commercial art & design, WF Handicrafts, decorative arts & crafts