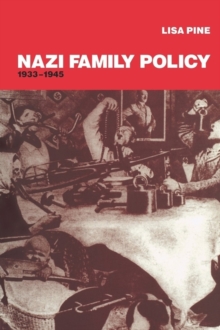 Nazi family policy, 1933-1945
1859739075 / 9781859739075
Usually dispatched within 4 weeks
224 pages, black & white illustrations
Although the Third Reich has been extensively researched, there has been no thorough examination of Nazi policy towards the family.
In tackling this important subject this book provides profound insights into German society under Hitler and represents a significant contribution to the existing literature on the Third Reich.
The book first explores the nature of Nazi family ideology and gives an overview of various aspects of Nazi family policy, including the impact of eugenics upon population policy and issues such as marriage, divorce, contraception, abortion and welfare measures.
This is followed by a consideration of the dissemination of Nazi family ideals by means of education and socialization.
The book examines families at different ends of the spectrum in Nazi Germany - model families which served to define the Nazi ideal of the kinderreich family, as well as undesirable families that did not fit into the national community.
In particular, asocial and Jewish families are vigorously examined -- the former representing the socially unfit and the latter, the racially inferior or alien. The book also presents an overview of the regime's ultimate legacy for the family in post-1945 Germany, not least the effects of World War II, and gives an overall assessment of the regime's family policy and a discussion of how the Nazi period fits into the framework of the history of the German family.
BIC:
1DFG Germany, 3JJG c 1918 to c 1939 (Inter-war period), 3JJH c 1939 to c 1945 (including WW2), HBTB Social & cultural history, JHBK Sociology: family & relationships, JPFQ Fascism & Nazism, JPQB Central government policies