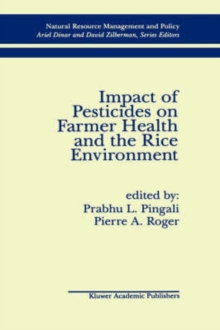 Impact of Pesticides on Farmer Health and the Rice Environment (1995 ed.)
0792395212 / 9780792395218
Usually dispatched within 2 weeks
155 x 235 mm, 2480 grams 664 pages, XI, 664 p.
Professional & Vocational Learn More
Postgraduate, Research & Scholarly
The book covers the various aspects of the use of pesticides, their behavior, degradation, and impacts in wetland ricefields, and presents the results of surveys conducted in the Philippines and Thailand.
It includes both bibliographic reviews and selected aspects of the experimental results of a research project on pesticide impacts in wetland ricefields.
The first phase of the `Pesticide Impact' project was developed in the Philippines from 1989 to 1991.
It was a multidisciplinary/collaborative approach involving scientists from IRRI, NRI (England), ORSTOM (France), UPLB (Philippines) who studied the effects of pesticides on the environment and on farmers' health, and the economical aspects of their use.
BIC:
1FMP Philippines, 1FMT Thailand, MBN Public health & preventive medicine, TVQ Tropical agriculture: practice & techniques
* Variable discounts between 0% and 10% are applied to items where BBfS cannot determine exact discounts from suppliers.
Other Formats