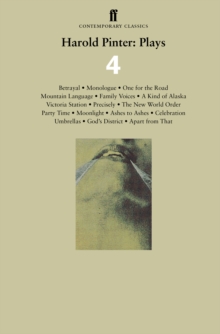 Plays four (2nd expanded ed)
0571288405 / 9780571288403
Reprint. This ed. originally published: 2005.
This revised third volume of Harold Pinter's work includes The Homecoming, Old Times, No Man's Land, four shorter plays, six revue sketches and a short story.
It also contains the speech given by Pinter in 1970 on being awarded the German Shakespeare Prize. The Homecoming 'Of all Harold Pinter's major plays, The Homecoming has the most powerful narrative line...
You are fascinated, lured on, sucked into the vortex.' Sunday Telegraph 'The most intense expression of compressed violence to be found anywhere in Pinter's plays.' The Times Old Times 'A rare quality of high tension is evident, revealing in Old Times a beautifully controlled and expressive formality that has seldom been achieved since the plays of Racine.' Financial Times 'Harold Pinter's poetic, Proustian Old Times has the inscrutability of a mysterious picture, and the tension of a good thriller.' Independent No Man's Land 'The work of our best living playwright in its command of the language and its power to erect a coherent structure in a twilight zone of confusion and dismay.' The Times
BIC: