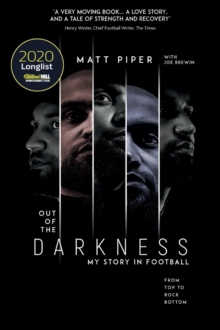 Out of the darkness : from top to rock bottom
1785316524 / 9781785316524
Out of the Darkness is the gritty and hard-hitting autobiography of former Leicester and Sunderland winger Matt Piper, the ex-England U21 hopeful whose dreams were shattered when an injury ended his football career at the age of 24.
After making history as the last-ever goalscorer at Filbert Street in 2002, Matt was forced into a GBP3.5m move to Wearside amid the Foxes' financial misery.
But that high was short-lived and soon his ambitions - and life - crumbled.
After 16 operations, failed comebacks and anxiety attacks, he retired with money in his pocket but no clue where to turn next.
Soon, Matt's daily existence became dependent on alcohol and Valium, waking up in hospital with no idea why, with doctors suggesting he be sectioned.
Out of the Darkness reveals another side of football - what happens next when things don't go right and how to overcome life's worst demons.
Matt's frank and often troubling revelations are complemented by hilarious tales of dysfunction amid life at two of English football's biggest clubs.
BIC:
1DBKE England, BGSA Autobiography: sport, WSJA Football (Soccer, Association football)