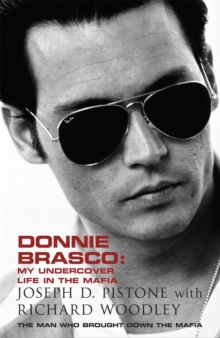 Donnie Brasco : my undercover life in the mafia
0340922656 / 9780340922651
Reprint. Originally published: U.S.: New American Library, 1987; London: Sidgwick & Jackson, 1988.
In 1978, the US government waged a war against organised crime.
One man was left behind the lines. From 1976 until 1981, Special Agent Pistone lived undercover with the Mafia.
Only able to visit his young family once every few months, Pistone - under the alias Donnie Brasco - ate, drank, partied, worked and sometimes killed with the wiseguys.
He got so close that his Mafia partner, Lefty Ruggiero, asked him to officiate as best man at his wedding.
Pistone's eventual testimony, in such spectacular prosecutions as 'the Pizza Connection' and 'the Mafia Commission' resulted in more than 200 indictments and 100 convictions of members of organised crime.
BIC: