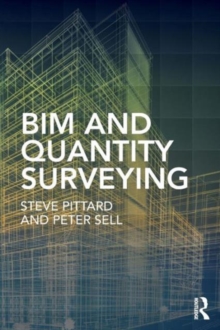 BIM and quantity surveying
0415870437 / 9780415870436
24 cm xvii, 256 pages : illustrations (black and white)
Professional & Vocational Learn More
Tertiary Education (US: College)
The sudden arrival of Building Information Modelling (BIM) as a key part of the building industry is redefining the roles and working practices of its stakeholders.
Many clients, designers, contractors, quantity surveyors, and building managers are still finding their feet in an industry where BIM compliance can bring great rewards. This guide is designed to help quantity surveying practitioners and students understand what BIM means for them, and how they should prepare to work successfully on BIM compliant projects.
The case studies show how firms at the forefront of this technology have integrated core quantity surveying responsibilities like cost estimating, tendering, and development appraisal into high profile BIM projects.
In addition to this, the implications for project management, facilities management, contract administration and dispute resolution are also explored through case studies, making this a highly valuable guide for those in a range of construction project management roles.
Featuring a chapter describing how the role of the quantity surveyor is likely to permanently shift as a result of this development, as well as descriptions of tools used, this covers both the organisational and practical aspects of a crucial topic.
BIC: