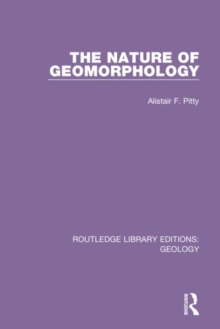 The nature of geomorphology
0367220873 / 9780367220877
Usually dispatched within 4 weeks
Reprint. Originally published: London: Methuen, 1982.
In this re-evaluation of the basic postulates of geomorphology, first published in 1982, Alistair Pitty examines the subject within its scientific context, arguing that coherence in geomorphology can be demonstrated despite the many apparent divergences, which should themselves be regarded as poles within a spectrum of opinion.
Not least, the particularly geological and geographical aspects of geomorphology are carefully identified and explained within this coherence.
BIC: