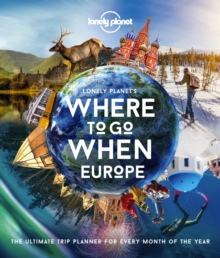 Lonely Planet's where to go when Europe
1838690409 / 9781838690403
28 cm 304 pages : illustrations
Where should you go next in Europe? Packed full with trip recommendations for every time of year - curated with weather, seasonal costs, crowds and events in mind - this book covers every flavour of the European travel experience, from culture-rich city breaks and sun-kissed beach escapes to scenic road trips and adrenaline-fuelled adventures.
With more than 300 suggestions for destinations across Europe and the best time of year to experience them, this 304-page book is the ultimate trip planner for every month of the year.
It features unique interactive flow chart in each month's chapter to help you refine your interest.
Find out how to escape the crowds in the pastel-hued villages of Italy's Cinque Terre, discover why the slopes o(more...)
BIC: