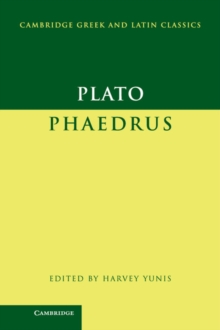 Plato - Phaedrus (New ed.)
0521847761 / 9780521847766
Usually dispatched within 4 weeks
Ostensibly a discussion about love, the debate in the Phaedrus also encompasses the art of rhetoric and how it should be practised.
This new edition contains an introductory essay outlining the argument of the dialogue as a whole and Plato's arguments about rhetoric and eros in particular.
The Introduction also considers Plato's style and offers an account of the reception of the dialogue from its composition to the twentieth century.
A new Greek text of the dialogue is accompanied by a select textual apparatus.
The greater part of the book consists of a Commentary, which elucidates the text and makes clear how Plato achieves his philosophical and literary objectives.
Primarily intended for advanced undergraduates and graduate students of ancient Greek literature and philosophy, it will also benefit scholars who want an up-to-date account of how to understand the text, argument, style and background of the work.
BIC:
DB Classical texts, HPCA Western philosophy: Ancient, to c 500