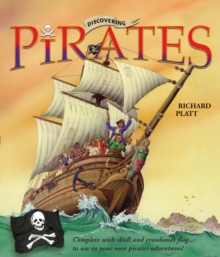 1905339100 / 9781905339105
Stock expected by 16/04/2020
Reprint. Originally published: 2002.
"Discovering Pirates" is an authoritative book about pirates for 7-11 year olds.
It focuses on the golden age of piracy when notorious figures such as Blackbeard and Captain Kidd plundered treasure ships in the Spanish Main.In 13 superbly illustrated sections, the book looks at all aspects of piracy, from who the pirates were and what they did, to their ships and weapons, their lore and language, their way of life, the way they shared and spent their booty, how they treated their hapless victims (by making them walk the plank for example), and the fate that awaited them if they were unlucky enough to be captured by the Royal Navy.Red Kite Books' "Discovering" series has two special features setting it apart from the competition: a story told in verse running along the bottom of each spread and a fantastic free gift tucked in the back in a poly bag.
In "Discovering Pirates", the free gift is a black and white skull and crossbones flag measuring 470 mm X 350 mm.
BIC: