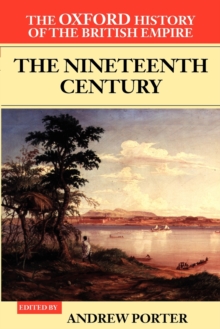 The Oxford history of the British EmpireVol. 3: The nineteenth century
0199246785 / 9780199246786
Usually dispatched within 4 weeks
Reprint. Originally published: 1999.
Volume III of The Oxford History of the British Empire covers the long nineteenth century, from the achievement of American independence in the 1780s to the eve of world war in 1914.
This was the period of Britain's greatest expansion as both empire-builder and dominant world power.
The volume is divided into two parts. The first contains thematic chapters, some focusing on Britain, others on areas at the imperial periphery, exploring those fundamental dynamics of Britishexpansion which made imperial influence and rule possible.
They also examine the economic, cultural, and institutional frameworks which gave shape to Britain's overseas empire.Part 2 is devoted to the principal areas of imperial activity overseas, including both white settler and tropical colonies.
Chapters examine how British interests and imperial rule shaped individual regions' nineteenth-century political and social-economic history.
Themes dealt with include the economics of empire, imperial institutions, defence, technology, imperial and colonial cultures, science and exploration.
Attention is given not only to the formal empire, from Australasia and the WestIndies to India and the African colonies, but also to China and Latin America, often regarded as central components of a British 'informal empire'.Series BlurbThe Oxford History of the British Empire is a major new assessment of the Empire in the light of recent scholarship and the progressive opening of historical records.
From the founding of colonies in North America and the West Indies in the seventeenth century to the reversion of Hong Kong to China at the end of the twentieth, British imperialism was a catalyst for far-reaching change.
The Oxford History of the British Empire as a comprehensive study allows us to understandthe end of Empire in relation to its beginnings, the meaning of British imperialism for the ruled as well as the rulers, and the significance of the British Empire as a theme in world history
BIC:
1QDB British Empire, 3JH c 1800 to c 1900, HBG General & world history, HBLL Modern history to 20th century: c 1700 to c 1900, HBTB Social & cultural history, HBTQ Colonialism & imperialism, HBTR National liberation & independence, post-colonialism, KCZ Economic history