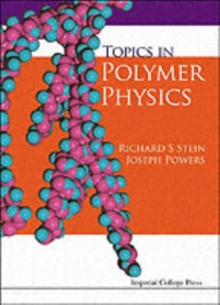 Topics In Polymer Physics
1860944116 / 9781860944116
Stock expected by 04/10/2021
Professional & Vocational Learn More
Postgraduate, Research & Scholarly
Undergraduate
This book can serve as an introduction to students interested in learning the techniques used in developing mathematical models of physical phenomenon in polymers; or it can furnish the background information to the experienced professional desiring to broaden his/her knowledge of polymers.
The senior author presented material in this book to students interested in learning the fundamental mathematics underlying many areas of polymer physics and in lectures to audiences with varying backgrounds in polymer physics.
Too many times, the basic equations are presented in final form from either lack of space or the assumption that the derivation is widely disseminated and does not require repetition.
A wide variety of topics are covered, from the statistical physics and thermodynamics of polymers, to the optical and electrical behavior of polymers, as well as spectroscopy techniques for polymers.A website for the book is available at the URL: web.mac.com/rsstein1/iWebThis contains pages describing the book, the authors, information about important polymer scientists, links to additional material, book corrections, and recent developments.
BIC:
PHFC Condensed matter physics (liquid state & solid state physics), PNNP Polymer chemistry