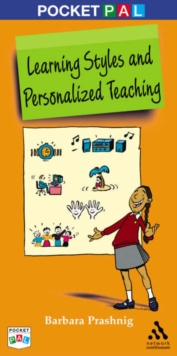 Learning styles in action
1855392089 / 9781855392083
Stock expected by 25/04/2021
Understanding how individuals learn is central to personalizing learning.
In this practical guide to learning styles, Barbara Prashnig explains how to implement personalized learning in real and varied contexts: what to do and what to avoid, and how to combine learning styles with your existing teaching methods to enhance curriculum delivery.
Drawing on her vast experience of learning styles around the world, Barbara looks at issues, such as: how learning styles can help 'problem' students; multisensory teaching and learning, beyond VAK; ways to integrate learning styles and ICT; creating a learning styles classroom; and the do's and don'ts of using learning styles.
Each of the 24 chapters describes a particular aspect of style diversity and how to apply it in different situations - from nursery to university, from homework to exams, to sports coaching and sustaining change programmes in schools.
Specially designed to be ultra user-friendly, "Learning Styles in Action" enables anyone to easily find out not only what personalized learning is all about, but also how to make it happen.
BIC: