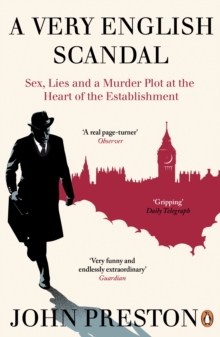 A very English scandal : sex, lies and a murder plot at the heart of the establishment
0241973740 / 9780241973745
20 cm ix, 339 pages, 8 unnumbered pages of plates : illustrations (black and white)
Reprint. Originally published: London: Viking, 2016.
The bestselling book that inspired the Bafta-winning BBC dramaCorruption.
Blackmail. Conspiracy to murder. A Very English Scandal has all the hallmarks of a classic thriller with one difference.
It's all true. In the late 1960s Jeremy Thorp, the charismatic leader of the Liberal Party, was at the height of his political career.
But homosexuality had only just been legalized, and a former relationship with a younger man named Norman Scott threatened to destroy Thorp's carefully curated facade.
Helped by fellow politicians, Thorpe schemed, deceived and embezzled until he saw only one way to silence his ex-lover for good. Meticulously researched and endlessly extraordinary, Thorp's trial captured the moment that British society discovered the truth about its political class - and learned just how far the Establishment will go to protect its own. 'Gripping. A story of cack-handed assassins, buffoonish policemen, dodgy Home Secretaries' Daily Telegraph'I loved it; eccentric, dark, humane and English in the very best sense' Alain de Botton'Retold with masterful skill . . . It grips like a detective story' Daily Mail, Book of the WeekJOHN PRESTON'S NEXT BOOK, FALL: THE MYSTERY OF ROBERT MAXWELL, IS AVAILABLE FOR PRE-ORDER NOW
BIC:
1DBK United Kingdom, Great Britain, 3JJPL c 1970 to c 1980, JPZ Political corruption