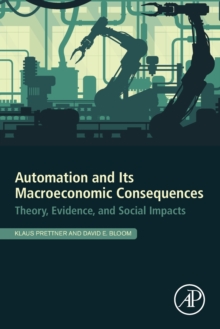 Automation and its Macroeconomic Consequences : Theory, Evidence, and Social Impact
0128180285 / 9780128180280
Automation and Its Macroeconomic Consequences reveals new ways to understand the economic characteristics of our increasing dependence on machines.
Illuminating technical and social elements, it describes economic policies that could counteract negative income distribution consequences of automation without hampering the adoption of new technologies.
Arguing that modern automation cannot be compared to the Industrial Revolution, it considers consequences of automation such as spatial patterns, urbanization, and regional concerns.
In touching upon labor, growth, demographic, and policy, Automation and its Macroeconomic Consequences stands at the intersection of technology and economics, offering a comprehensive portrait illustrated by empirical observations and examples.
BIC:
KCG Economic growth, KCM Development economics & emerging economies, KJC Business strategy